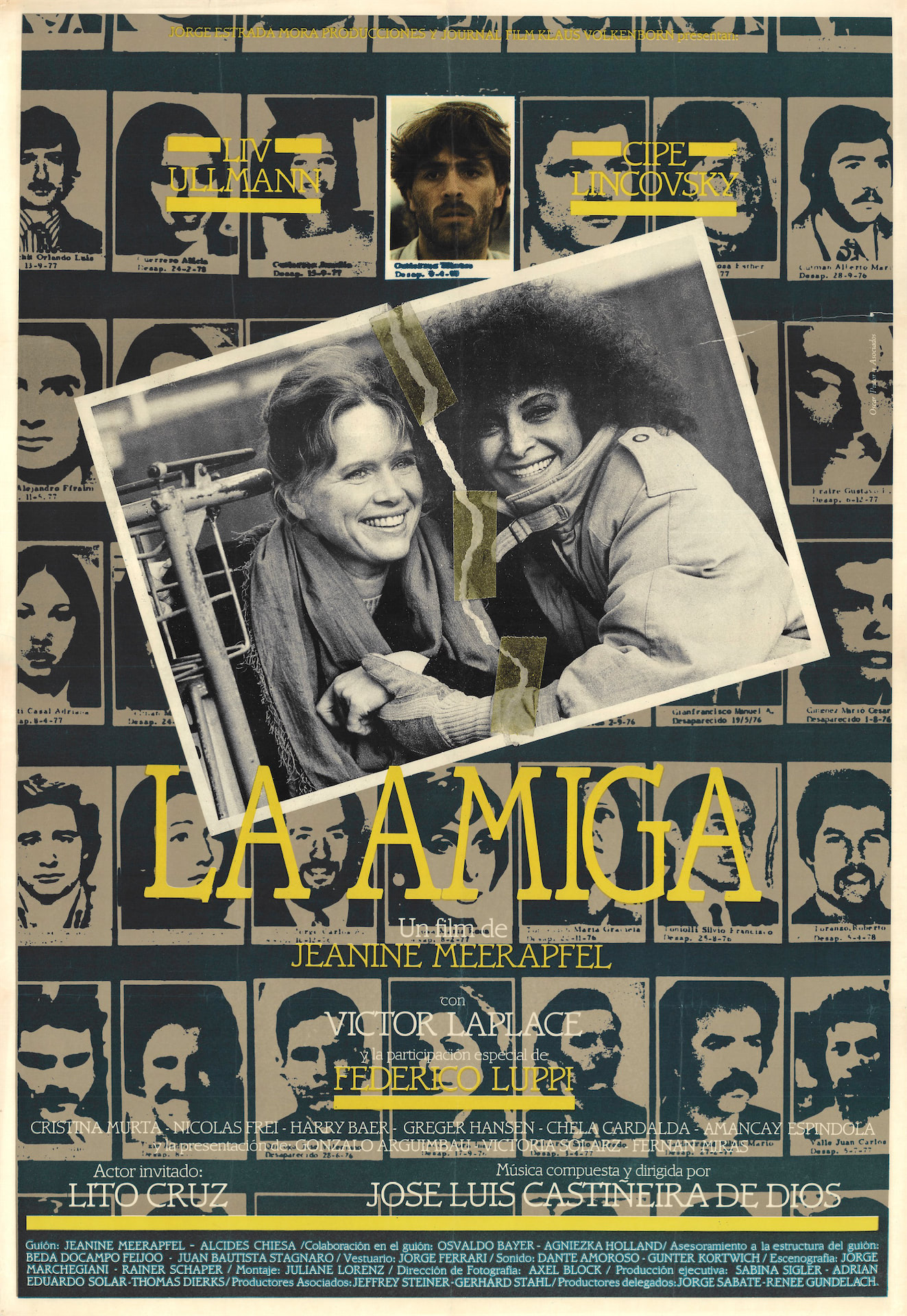 Feature film
Germany | Argentina | 1988
Digital | 35 mm | 109 min
---
Language · Spanish
Subtitle · English
Synchronized version · German
---
Trailer
---
This film is a story of a close, but complex friendship between two women against the backdrop of the military dictatorship. They swear everlasting friendship and promise to become actresses. Twenty years later, Raquel has indeed become a famous Argentine actress. Maria is married to an electrician and has three children.
1976. The military take over the government. Carlos, Maria's oldest son, is taken away by a special commando. Despairing, Maria turns to her influential girlfriend, Raquel. The two women begin their search for Carlos. The two go to police departments, barracks, official bureaus. But nobody will give them information. And those who ask questions are themselves suspicious. Raquel is also threatened.
Raquel leaves the country. She goes to Germany, to Berlin, the town her family was forced to leave when Hitler came to power. In the meantime, Maria joins the Mothers of the Plaza de Mayo – a group of Argentine women all looking for missing members of their families. The two women do not see each other again until Maria comes to Germany to meet a friend of her missing son. Raquel realizes how much Maria has changed, how self-confident and uncompromising this shy woman from the suburbs has become. The old friendship is still there, but the differences in their opinions and attitudes to life have widened.
December 1983. The military dictatorship in Argentina comes to an end and Raquel returns to Buenos Aires. Frightened and insecure, she tries to adapt and to look forward. She wishes her girlfriend would also give up her demands. She urges Maria to accept that Carlos is dead. Maria refuses: her son is not dead, he is "missing". Nothing should be forgotten, so that nothing can be repeated.
---
Director · Jeanine Meerapfel
Script · Jeanine Meerapfel
Cast · Liv Ullmann | Cipe Lincovsky | Federico Luppi | Victor Laplace | Harry Baer
Photography · Axel Block
Sound · Dante Amoroso | Gunter Kortwich
Editing · Juliane Lorenz
Music · José Luis Castiñeira de Dios
Production · Klaus Volkenborn, Journal Film KG, Berlin | Alma Film GmbH, Berlin | Jorge Estrada Mora Producciones, Buenos Aires
---
Awards
1988
1st. Prize Best Actress · San Sebastián | Spain
Special Mention of the international Catholic Organisation for Film and Audiovision · Havana | Cuba
1989
Federal Film Award · Germany

1990
Peace Film Award · Berlin | Germany
2nd Prize Filmschau · Nuremberg | Germany
Festivals
1988
San Sebastián Int. FF · San Sebastián | Spain
Festival de cine Latinoamericano · Havana | Cuba
Montreal World FF · Montreal | Canada
Sydney Int. FF · Sydney | Australia
Chicago Int. FF · Chicago | USA
Human Rights Filmfestival · Strasbourg | France
New York FF · New York | USA
Miami Int. FF · Miami | USA
Istanbul Int. FF · Istanbul | Turkey
Köln Filmfestival · Cologne/Germany
Festival · Taormina | Italy
1990
Nürnberger Filmschau · Nuremberg | Germany

2012
IFFI · Innsbruck | Austria

2019
Berlinale (Retrospective) · Berlin | Germany
---
---
"… Jeanine Meerapfel's La Amiga is a West German-Argentinian co-production, which after a childhood prologue follows the life of two women friends, living in Buenos Aires from 1978 up to the present day. One (Liv Ullman) does her best to oppose the regime ; the other (Cipe Linkovsky) uses her career as an actress to seek exile in Germany. This is a political film in the best sense, dramatising  the effect of  ideology and its application on human feelings and relationships. The treatment moreover is fully worthy of the theme . Ullman (successfully dubbed) and Lincovsky shared the best actress award for their performances"

The Guardian- Tim Pulleine- 29.9.88
"The film succeeds on a larger scale in capturing a tragic period in recent history, and delineating the conflicts faced by those caught up in the destruction. Personal and political questions create deep divisions between the two women and permeate Argentine society today. Aesthetically, La Amiga has much to offer, with richly textured scenes of Buenos Aires and Berlin…"

The Northern California Jewish Bulletin- Marianne Goldsmith- 21.7.89
---